1.Name : Hiroshi Nagai

2.Year of Birth : 1941

3.Breeding : Small island Matsushima in Nagasaki Prefecture.

4. Hobby : Personal Computer.
       CD-R manufacture, video edit, etc.
       A photograph and camera.
       Travel / hike drive and a flower, and
       a garden tree,
       reading and swimming.
       Bridge (a suspension bridge and
       a cable stayed bridge).
       Card collections (a telephone card,
       orange card, etc.) .
       stamp and coin collections.
       Making up of radio and a model.
       Movies.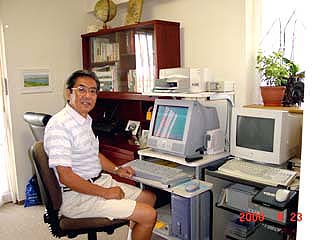 In my personal computer and study room
( August 2000 )